By Jen Sbrocchi, Pre and Postnatal Yoga Instructor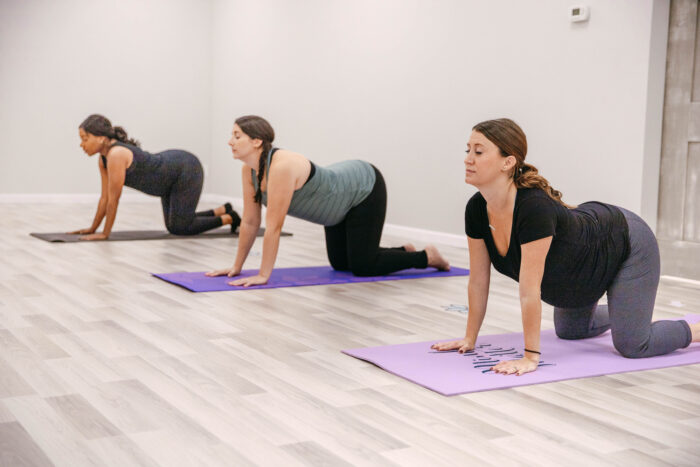 Once you share you're pregnant, you may have a few friends, or even health care providers, suggest you look into local prenatal yoga classes. Even if you don't know what downward facing dog or pranayama is, prenatal yoga can prepare and empower you for your pregnancy, labor and delivery, and motherhood.
Whether you're fully embracing or struggling with your growing bump, prenatal yoga can help you get connected or stay connected with your changing pregnant body. It's no secret that pregnancy can sometimes be a challenging time, both physically and mentally. You may be dealing with unfamiliar aches and pains or learning how to slow down and be gentle and kind to yourself.
Movement
Asana, or the physical yoga poses, can alleviate the common pregnancy discomforts you may be feeling. Many yoga poses or movements can help ease back pain, achy hips, sciatica, indigestion and many other pregnancy induced complaints. The use of asana in class can also help you feel stronger and more mobile, finding better alignment in your pregnant body. Yoga can also help create balance in the pelvis, pelvic floor and pelvic ligaments, hopefully leading to a more functional birth.
Breath
Pranayama or breathing, is practiced during prenatal yoga. It is essential that you breathe optimally when pregnant (and really all the time!). This can help with how you feel during pregnancy and how your baby is positioned, how you manage your contractions during labor, and how your core and pelvic floor recover postpartum. Your pranayama practice will allow you to focus inward and encourage you to find an opening and release in your body.
Making prenatal yoga a priority
During pregnancy, many of us spend our days ticking off items on a to do list or planning for the next week or month. With busy, fast paced lives, it's sometimes hard to be present in the current moment. Carving out one hour for a prenatal yoga class can give you that designated time. Class can help you slow down and focus on creating space in your mind to connect with your baby. Whether it's consciously sending your breath to your baby, visualizing them in the womb, or providing touch to your belly, you're strengthening that intimate bond you and baby share.
Regardless of the birth experience you are prepping for, learning tools to get you through your labor and birth is essential to making informed decisions which can impact your having a positive experience. Many prenatal yoga instructors can effortlessly introduce childbirth education tips and birthing trends into their classes. Pranayama, meditation, and yoga poses can easily be used during labor and delivery. Having the time to practice these coping skills while on your yoga mat can help you feel confident and ready for childbirth.
Probably the greatest benefit of them all, is the community that is formed during prenatal yoga classes. Most classes begin with time for you to introduce yourself, how far along you are and time to share how you're feeling, physically and/or emotionally, and any changes during your pregnancy. This time allows for a non-judgmental and open discussion. Many are relieved to hear they're not the only ones feeling a certain ache, some are just happy to listen to other's stories, and others need that time to talk about their pregnancy journey. For some, pregnancy can be isolating but attending prenatal yoga is a great way to feel a lot less alone. Many resources are shared and connections are formed. Most of these friendships transcend the class and stay with you as you transition into motherhood.
So if you're apprehensive about stepping into a studio or joining a virtual class, consider all the ways that prenatal yoga can enhance your physical and emotional well being during pregnancy. What you learn on your yoga mat will have a lasting impact as you enter motherhood!
Check out our weekly class schedule including live virtual and in person classes at www.thenestingplaceli.com/schedule