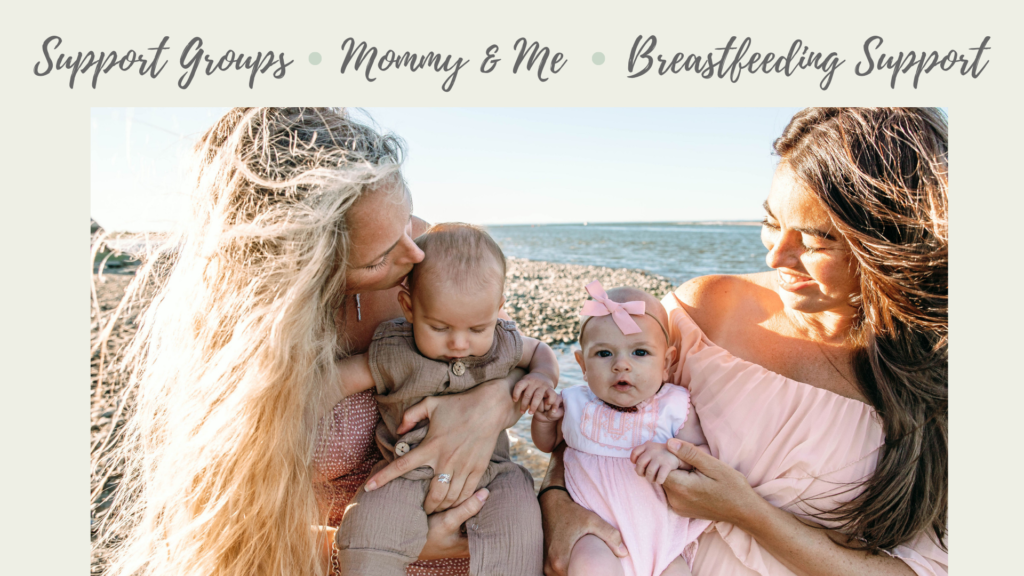 The Nesting Place offers workshops and classes for parents.
Breastfeeding Support Group – A group for pregnant and breastfeeding mothers to discuss pitfalls, successes and best practices to reach your breastfeeding goals. This group meets Monday mornings virtually, and Wednesdays in person in Yaphank or virtually. Register here.
Circle of Mothers – A support circle for mothers openly discuss the challenges and triumphs of motherhood. This group meets virtually every Monday at 8pm and every Friday morning in person in Farmingdale, Merrick and Yaphank. Register here.
Baby Music Class – An interactive and fun music class for babies 3 – 12 months.
Baby and Me Yoga – We offer weekly yoga classes for you and your little one to bond while getting in a good stretch and moving your body. This class is designed for 6-weeks to pre-crawlers. Offered in all three locations.
Baby Sensory Class – Sensory input builds neural pathways in the brain. These pathways – when exercised – become "information highways" which support process our thoughts and capacity to learn and make sense of new information. In these classes, children are exposed to different textures where they build capacity to explore the world around them and make sense of it. All sensory classes and curriculum are developed by Mindful Journey with the whole child in mind. Ages 5 months – 15 months.
Baby Developmental Play Class w. Reimagined NY – 6-12 month (Rollers and crawlers) – This class was developed by a certified occupational therapist and certified physical therapist. This class is a fun way for parents to bond with their child in a developmental and educational setting. We use music and movement to create a fun learning environment. Throughout the class you will be exposed to a variety of fine motor, gross motor, visual motor, and sensory activities. Parents will receive information, tips, and activities to further facilitate their child's developmental skills in the home environment.
Parent & Me Process Art – For ages 5 months to 3 years. In this class we will explore art as a behavior, rather than a product. An experience for baby and caregiver to connect and create. In this class, children will be exposed to various art mediums and tools, both traditional and unconventional.
Benefits include:
-exploration such as building a capacity for exploration
– supporting social and emotional capacities
-strengthening cognitive skills as they discover what happens when we make this mark or dip our toe in that color

Each class includes a welcome greeting, invitation to explore and create, clean up time and a connection story to end the class. Process art is an invitation to create and let a child's imagination take the lead.
Tummy Time Workshop – Led by Pediatric Physical Therapist, Mirav Newman, this 4 week workshop will teach your little one to be comfortable on their belly and to help with gross motor development and movement. For babies 6 weeks to pre-crawlers. We have 1.0 and 2.0 options available. Most begin in 1.0 and graduate to 2.0 but if your baby is 5-6 months you may consider starting in 2.0. You do not need to do 1.0 to do 2.0.
Baby Sign Language – A four week course for parents to teach their children basic sign language to assist with non-verbal communication. Learn basic signs for commonly used words and words to express their needs and wants.
Introduction to Solids – This workshop is taught by Certified Nutritionist, Emily Magee, MS, CNS designed to teach you to introduce solid foods to your little one in a safe and healthy manner. Learn about signs of readiness, feeding schedules, perfect first foods and baby led weaning. Currently this class is offered as an e-course.
Four Steps to Sleep – Sleep Coaching Workshop – an interactive workshop to learn effective tips and gain an optimal daytime schedule from eating, play and naps, to developing a bedtime routine that works best for your family. This class is led by Certified Sleep and Parent Coach, Rebecca Kammerer. Currently this class is offered as an e-course.