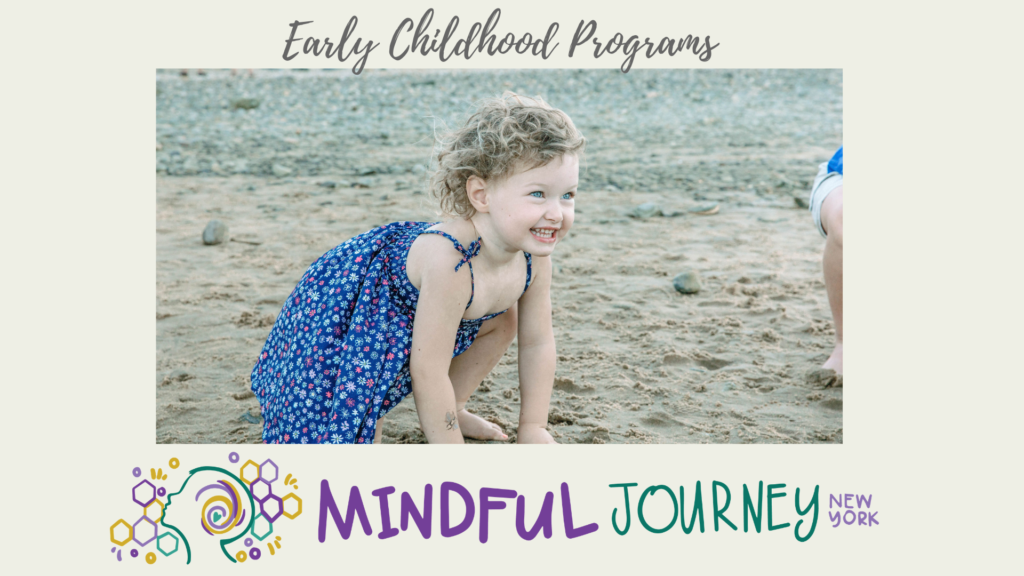 Mindful Journey NY offers programs which take a holistic approach to child development that meets children on their level, allowing them to be the navigator of their education. Each class is an intimate setting; only 6 children to maximize connection.
These programs utilize a carefully curated environment with purposefully chosen materials. The program influenced by Reggio and Montessori Philosophies is strengths-based and emergent, catering specifically to each child in the program.
Children will be introduced to early literacy and math concepts as they show readiness. They will also follow a carefully created Social and Emotional curriculum geared towards helping children make sense of the world around them in a developmentally appropriate way. Mindfulness and growth mindset are gently woven into the program, offering an all-encompassing early learning experience suitable for young minds. Our aim is to prepare a child for HOW to learn, so they are not only prepared for school but ready for life.
This curriculum was carefully designed by Jenna Samuelson-Seage, M.Ed.
Learn more about the program and sign up at https://www.mindfuljourneyny.com/
Meet the Teacher
Jenna Samuelson-Seage, M.Ed.
Jenna has worked in Early Childhood Education for over 15 years. She has been a Teacher, Curriculum Coordinator, Preschool Director, and PD Specialist. Her favorite job, however, is being a momma to a strong 12-year-old girl and a lovable 4-year-old boy. With a deep passion for yoga and meditation, she has brought yoga and breathing techniques into her programs for several years. She holds a Kidding Around Yoga Teacher Certification and is currently pursuing her 200 YTT.
Her passion for purposeful Socio-Emotional Learning deepened as she saw too many children struggle with emotions, self-confidence, and healthy ways of self-expression. Parents too, need support and time to develop their own understanding of emotions and how they can best support their children. By developing workshops for educators Jenna has deepened her understanding of the role that trust, and healthy relationships have on children. She is excited to provide a family connection to her programs and workshops. Her learning readiness programs prepare the child for the world around them. She believes that social and emotional learning IS a core subject area. Jenna's programs are child driven and full of unique experiences for children to learn through play, movement, mindfulness, and meditation. All children have superpowers. When they find their superpower, their abilities are limitless!