Reiki is an energy healing that works holistically on the whole body, mind and spirit. It is a relaxing treatment where natural healing vibrations are transmitted through the hands of a practitioner who acts as a conduit, to the body of the recipient.
The purpose of a Reiki is to relieve stress and pain, induce relaxation, release emotional blockages, accelerate natural healing, balance subtle bodies energies and support other medical modalities. Reiki also helps you develop a stronger connection to your intuition, living with more clarity, purpose and intention.
The body is more than physical, we are made up of thoughts, emotions and feelings. Gentle touch, tapping and massage is applied to acupressure points, neurovascular and neuro-lymphatic pressure points, meridians and chakras. Sound Therapy (singing bowls, chakra tuning forks), EFT (Emotional Freedom Technique), breath work, guided meditations, diaphragmatic breathing, and grounding techniques are also used to balance, realign and release stress and anxiety.
Benefits of receiving Reiki throughout pregnancy:
-Energy Balance
-Reduces feelings of exhaustion, anxiety
-Promotes feelings of inner-peace and self-confidence
-Helps you tap into your intuition and find your inner-voice
Meet Our Practitioners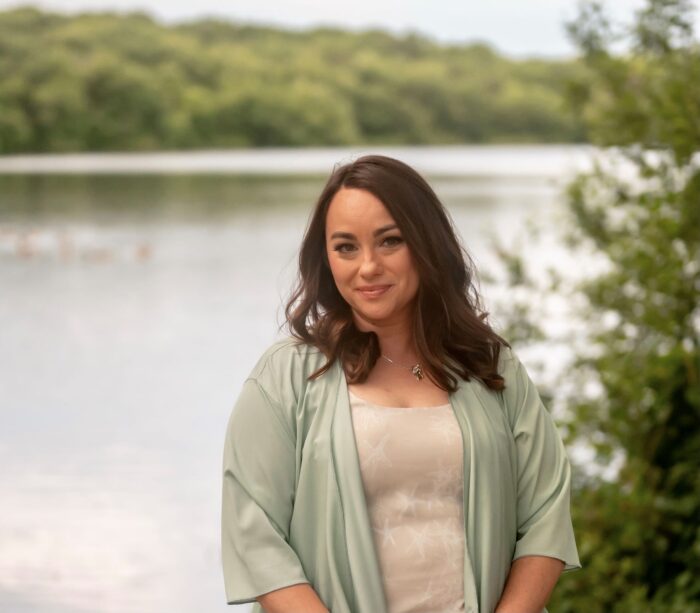 Jennie McGuire
Located in our Farmingdale and Merrick Locations
Jennie is a Holy Fire Reiki Master (trained by Melissa Mortimer), an intuitive medium (trained by MaryAnn DiMarco) and mother to an energetic toddler. She has a passion for supporting women to and through motherhood by way of reiki healings, mother blessings, intuitive guidance and aromatherapy. Her practice, Sugihara Serenity, is all about empowering the motherhood community to connect to their intuition and live their soul purpose.

Get in touch with Jennie:
Email: jenserenity413@gmail.com
Phone: 516-506-8985
IG: @jen.serenity
---
Leah Fazal Byrnes MS, OTR/L, NKT, VFRT
Located in our Yaphank Location
Leah is an Occupational Therapist who specializes in Traditional and Holistic therapies including:
-Acupressure
-Lymphatic Drainage/Massage
-Energy Medicine
-OT Orthopedic assessments
-OT Pediatric assessments
-OT/Neurokinetic Therapy
-Sound Therapy

Leah Fazal Byrnes is our newest health and wellness expert joining The Nesting Place. She studied
Occupational Therapy receiving her Masters in OT and Bachelors in Science with the honorary title of
Summa Kum Laude from York College in 2014. Leah initially began her journey into holistic healthcare
after studying acupressure, energy medicine, and meditative techniques in India in 2016. She continued
her path towards becoming a Holistic Occupational Therapist by studying NeuroKinetic Therapy in 2019
achieving Lvl. 2 NeuroKinetic Therapist certification.
The addition of VFRT (Vibrational Fascia Release
Technique) & VCT (Vibrational Chrono Therapy) came in early 2021, specializing in lymphatic drainage
and sound therapy. Leah is currently working on obtaining her Pregnancy and Postpartum Corrective
Exercises Specialist Certification.

After several years of practicing, Leah opened her own practice, Balance Pathways LLC, where she
incorporates both traditional and alternative based therapies with her clients, treating the person as a whole. She noticed the importance of the brain-body connection and the impact that holistic healthcare
had on her clients, both adults and children. Leah is passionate about providing quality care and creating a unique bond with her clients.
To learn more about how she can help you,
or to schedule an appointment,
get in touch with Leah at
BalancePathways@gmail.com
631-384-8621
@BalancePathways