The Nesting Place is proud to offer Speech Language Pathology services. A Speech Pathologist, while commonly thought of as correcting speech sound errors such as L and R, actually provides a wide range of services. Our speech services focus on early childhood understanding and expressing of language, oral motor abilities needed to verbalize words and thoughts, how we read and interpret written language, understanding of social language and body language, as well as our ability to eat a variety of healthy foods with varying textures.

We collaborate with the providers at The Nesting Place to ensure carryover of skills and the best possible outcomes for therapy. We work with children from as young as a day old through adulthood.
Meet our Provider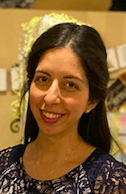 Christine Miroddi, MA, CCC-SLP/TSSLD
Christine is a Speech Pathologist who specializes in child language, literacy, and pediatric feeding disorders.
She offers:
– parent workshops
– Support and therapy for extremely picky eaters
– therapy and parent training to improve early child language
– Reading and literacy intervention
– Oral motor and articulation therapy using orofacial myology
– training in AAC device use
– infant feeding support and education
– Social or pragmatic language intervention
– DIR Floortime therapy
Christine is a NYS licensed Speech Pathologist who has worked in schools, rehab facilities, early intervention, and has a private practice of her own, Cove Speech and Language Therapy. She recently started Foodology Feeding Therapy to help children birth and beyond with pediatric feeding disorders. Christine has a holistic, child centered approach to help families reach their goals and get to the root cause of the issues.
Christine has her Bachelor's degree in Communication Sciences and Disorders from Penn State University and a Master's degree in Speech Language Pathology from Hofstra University. Christine has extensive post graduate training and is trained in PROMPT technique, the SOS feeding approach, sensory oral motor training, orofacial myology, pre and post frenectomy and tongue ties, LAMP, DIRFloortime, ABA, Social Thinking, and Lively Letters amongst other various trainings in nutrition and lactation. Christine has completed the requirements as a Certified Lactation Supporter and Educator (CLSE). These are all tools she uses to help develop an intervention plan that works for each family and helps the child make progress. As a mom herself, her number one goal is to help ease the burden communication and feeding disorders impart upon families.
To learn more:
Visit: www.covespeechtherapy.com 
Email: covespeechtherapy@gmail.com
Call: (516) 669-0434