by Doula, Lactation Counselor, Mother, Yoga Instructor, and Fourth Trimester Support Circle Leader, Ebonie 'Karma' Tudor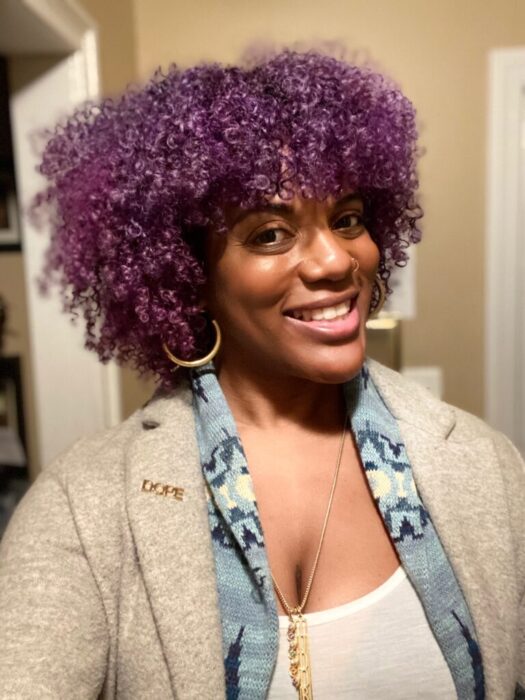 As a black mother, doula and birth worker, my clients mean the world to me. Black, Indigenous, People of Color (BIPOC) women have many obstacles in our paths when it comes to pregnancy and postpartum, in addition to struggles we face in other areas of our lives.
Many of the challenges we face stem from systemic racism embedded in the medical field; ranging from who has access to medical school, how medical professionals are taught to deliver care, to who has access to quality health care. Much of this leads to a palpable anxiety about childbirth because there is a real fear of dying in the process.
Why are we afraid?
For decades, or even longer, BIPOC women have been vocal about being discriminated against in medical settings. Our insurance coverage is often questioned, family makeup dissected, and when pain and discomfort are mentioned, complaints are often brushed off as exaggerating or being dramatic. Well known BIPOC peoples have also spoken out about this in the past including Amber Rose Issac, Sha-Asia Washington, Beyonce, Serena Williams – the list goes on. Furthermore, the so-called "Father of Gynecology", J. Marion Sims, experimented on black women slaves without pain medication. For more information on this check out the CDC's 2019 release which highlights Racial and Ethnic Disparities in prenatal care here.
This is then compounded by the health concerns that affect BIPOC women at a much higher rate, including preeclampsia, fibroids, gestational diabetes and thrombotic pulmonary embolism, to name a few.
The prevalence of these comorbidities combined with wage-disparities can increase the age at which BIPOC women have babies. It has been proven that women are paid less than men; and BIPOC women are paid wages even lower than their white counterparts. Therefore, BIPOC women tend to work more hours or take on more jobs, just to live a "comfortable" life.
Pregnancy is only the beginning
When a black woman delivers a happy, healthy baby AND are happy and healthy themselves, there is a universal sigh of relief in the BIPOC community. But then another wave of angst creeps in – postpartum. The concerns of having adequate time off for maternity leave, the absence of support systems and resources, coupled with the loss of wages can be a catalyst for depression and other mental health issues. Even if the birthing person is fortunate to have a solid support system, partners and other family members often have to quickly return to work, and the birthing person is forced to navigate unfamiliar territory alone.
Cultural dynamics play a major role in postpartum care. While family elders may say, "I didn't need support when I had my children" or "I just pulled it together and did it all"; this doesn't necessarily help. While it may be true, it doesn't mean that it was right, just or healthy. During the postpartum stage, we go through so many internal and external changes, emotional and physical support is not just 'nice to have' it's a necessity. The care and nurturing of the birthing person is so important because they are responsible for the care of the next generation. There are hormonal changes that a birthing person goes through for a year after they have given birth.
The same health concerns that BIPOC women had during pregnancy do not necessarily go away once the baby is born and the concerns are heightened because now there's the health and well-being of a child to consider; an unhealthy caregiver does not benefit baby.
We know that preeclampsia can occur in the postpartum period, as well as other conditions like, postpartum hemorrhage, infection, breast pain, postpartum depression, anxiety, obsessive compulsive disorder, and much more. During the postpartum period, we are learning how to be comfortable in our own new skin, as the body goes through so many changes during pregnancy. Don't get me wrong there are some cultures that practice "laying in", where the village comes together to support a family that has just had a baby for 40 days; but this isn't commonplace anymore. I have yet to see that regularly practiced in the United States. And now there is COVID which makes postpartum isolation even worse.
This is why it is so important for me to assist BIPOC families. As a facilitator for the BIPOC Fourth Trimester Support Circle, I want those that join the circle to feel supported by someone who looks like them. In the support circle, we have experienced specialists that are BIPOC to discuss Mental Health, Nutrition, Lactation, Pelvic Floor Therapy and other topics. I love that this support circle is virtual so there is no limit to our reach of BIPOC birthing people.
Check out our upcoming circles at www.fourthtrimestersupportcircle.com
Referenced articles:
https://www.cdc.gov/healthequity/features/pregnancy-outcomes/index.html
Racial and Ethnic Disparities Continue in Pregnancy-Related Deaths | CDC Online Newsroom | CDC