By: Nina Hawkes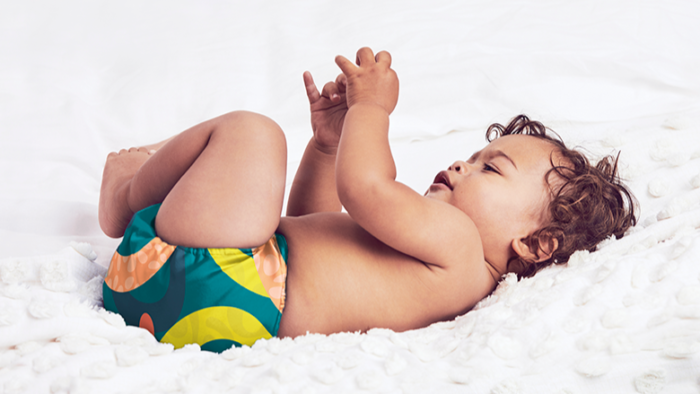 Like so many others, the double (triple) whammy of a global pandemic while raising a toddler and expecting a new baby opened up a valley of anxiety I'd never known before. The lack of social interaction certainly didn't help my growing fear for the future – pandemic aside, the reality of the world I would be leaving my kids was causing restless nights and more dark days than I cared to admit.
In the middle of this period, the owners of Diaperkind, a cloth diaper service, asked if I'd like to get more involved. Looking back, my path to making this decision feels clear. But at the time, I could barely believe I was nodding my head "yes." I have a job (that I love!) already. Could I really add this on to my plate?
Cloth diapering remains a common way to diaper in Australia and Europe, while the US has largely adopted the single-use diapers that were introduced in the 1950's. I had been cloth diapered as a baby (my mom used a service too) and I knew first hand how easy cloth diapering is with a service since I had already done it myself with my first.
I think it's so important to have a service for Long Island, New York, and New Jersey to make cloth diapering as accessible as possible. But what I didn't realize at the beginning was how much starting to work at Diaperkind was helping me.
Instead of long nights doom-scrolling about the climate crisis, I have met fantastic and passionate parents and environmentalists who are keenly doing the work.
I have been so encouraged to see that, just like straws, plastic bags, and other plastic products, there is a growing tide against items that are produced only to be used for just a few hours before being tossed into the garbage.
Babies go through over 2,000 diapers a year and account for 30% of Long Island's solid waste, plus most diapers are made of non-renewable materials such as crude oil and contain chemicals known to contribute to diaper rash. A cloth diaper service made my decision to cloth diaper a no-brainer and I hope by expanding to Long Island, we're able to show other parents how easy it is too!
We're so thrilled have been able to start to service the Nassau County community and to offer The Nesting Place Long Island customers a discount NPLI20 to use on signing up for service or purchases in our cloth diapering shop. Just email us at hi@diaperkind.com
If you're curious about an organic option for diapers, visit diaperkind.com and find us on Instagram here and TikTok here.