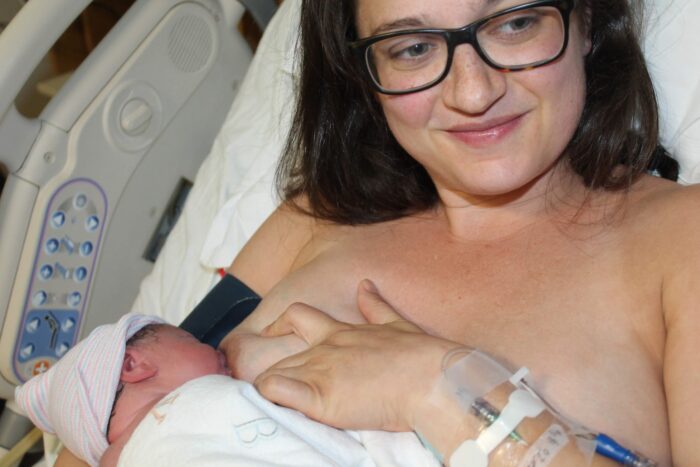 Get educated
Find a private childbirth education class to learn the anatomy of birth, along with valuable tips for labor. Hospital classes are somewhat useful but we find private classes are geared more towards helping a woman decide what's right for her. A good read is another great way to educate yourself. The Nesting Place offers a great selection of classes. For books we love Ina May's Guide to Childbirth by Ina May Gaskin and Sheila Kitzinger's The Complete Book of Pregnancy and Childbirth.
Surround yourself with positivity
The power of positive thinking is a great tool throughout pregnancy and birth. Surrounding yourself with people who are optimistic about your pregnancy and have positive stories about birth will help you remember this is a beautiful, sacred time in your life.
Practice yoga and/or meditation
Yoga and meditation are wonderful ways to de-stress throughout your pregnancy. Taking some quiet time to breathe and focus on your inner strength can help you in labor as well.
Hire the right midwife or doctor
Choosing a care provider is one of the most important decisions you will make during pregnancy. Be sure you interview a few care providers to find one who shares similar views as you, will respect your desires and listen to your concerns. It may seem too soon to talk about birthing preferences but it is an important conversation to have to ensure everyone is on the same page.
Hire a doula
A doula will guide you and your partner through pregnancy, birth and postpartum. As a trained and experienced professional, she will be there to educate, support and comfort you as well as provide labor support when the day arrives. A doula will be there to provide continuous, judgment-free information and care.
Give birth where you feel most comfortable
You may think a hospital is the safest place to give birth but really think about what is most important to you for this momentous event. Explore your options and choose a place where you feel safe and comfortable. Your body and baby will respond to your feelings when labor day comes!
Get a second opinion
If a situation arises where your medical provider suggests a test or procedure you do not understand or aren't 100% okay with, ask questions and do not be afraid to do your own research and/or ask for a second opinion. It's your body!
Address your fears
You may think fear and anxiety are just a part of pregnancy but they do not have to be. Work on getting to the roots of these fears. Talk to your partner, care provider, doula, friends and family.
Be open
Be proactive but do not overwhelm yourself with trying to plan every aspect of your labor and birth. Labor is unpredictable so going with the flow of things is key!
10. Trust yourself
Our bodies are made to birth our babies. Trust yourself and listen to your instincts, they can be your most powerful tool.