Breastfeeding in 2020 – Reflections on accessibility and barriers to support.
By Laura Moritz, RN, CLC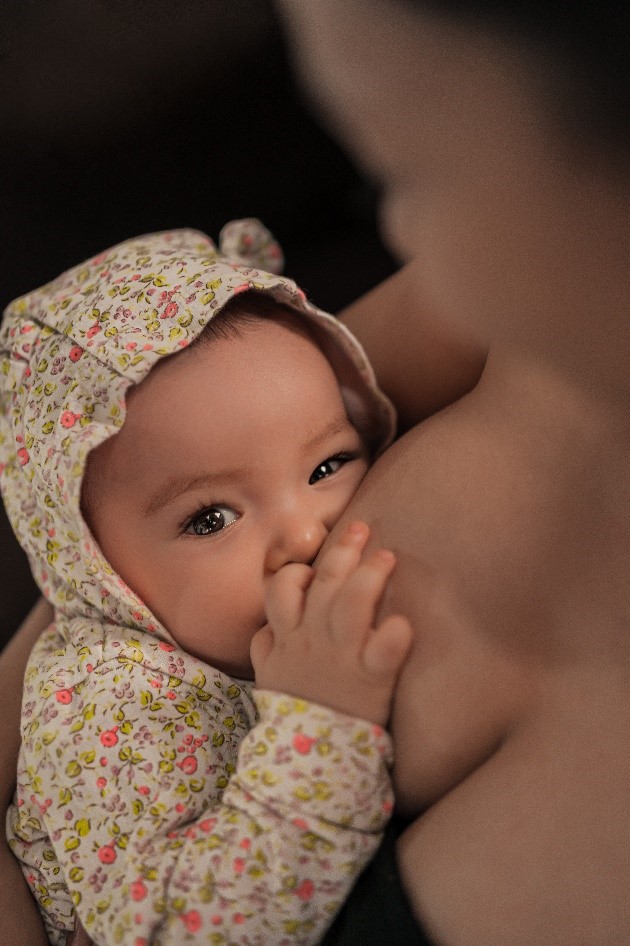 According to the World Health Organization, WBW is a global campaign to raise awareness and galvanize action on themes related to breastfeeding and the goal is to re-establish a global breastfeeding culture and provide support for breastfeeding everywhere. World Breastfeeding Week is celebrated every year from August 1st through 7th in commemoration of the 1990 Innocenti Declaration (created by participants of WHO/UNICEF for the protection, promotion, and support of breastfeeding).
The Innocenti Declaration states:
"Breastfeeding is a unique process that:
• provides ideal nutrition for infants and contributes to their healthy growth and development;
• reduces incidence and severity of infectious diseases, thereby lowering infant morbidity and mortality;
• contributes to women's health by reducing the risk of breast and ovarian cancer, and by increasing the spacing between pregnancies;
• provides social and economic benefits to the family and the nation;
• provides most women with a sense of satisfaction when successfully carried out; and that Recent research has found that:
• these benefits increase with increased exclusiveness of breastfeeding during the first six months of life, and thereafter with increased duration of breastfeeding with complementary foods, and
• programme interventions can result in positive changes in breastfeeding behaviour"
Each year there is a theme, and this year it is Support breastfeeding for a healthier planet. The World Health Organization (WHO) and UNICEF are "calling on governments to protect and promote women's access to skilled breastfeeding counseling, a critical component of breastfeeding support."
Here I explore some important questions around supporting breastfeeding mothers. My answers are based on my own experiences both personally and professionally as a mom, registered nurse, and certified lactation counselor…
I began my breastfeeding journey eight years ago when my oldest son was born. I chose the best option for me, based on the knowledge I had at the time, and that meant a designated baby friendly hospital.
After 65+ hours of labor, we happily welcomed our son into the world via cesarean section. Swelling from IV fluids, and flat nipples, made it extremely difficult, near impossible, for my newborn to latch.
Because there was no IBCLC present due to the birth occurring after 5pm, I could not be given a nipple shield. Because I could not be given a shield, my baby couldn't eat until some point the next day whenever the IBCLC could see me, unless I gave a bottle of formula. So I gave formula–readily. I was scared and exhausted. I mention as side note: In my experience as a mom, and as a student nurse during my clinicals, when a mom said she wanted to breastfeed, but gave formula, many nurses stopped being as helpful with breastfeeding.
So I sat there in my "baby friendly hospital", being fed poor advice time and again. This 'advice' resulted in a massive oversupply (pumping after every feed but with no direction as to how long, etc), incorrect flange sizing (engorgement), in my baby being overfed because I was dismissed when I expressed concern at the nurse feeding him 25mL of formula when his newborn tummy size really only would comfortably fit 5-7mL…(spitting up and reflux symptoms). I had similar disappointment with guidance (or lack thereof) with my second son related to oral ties, and horrific reflux/colic for months.
I was introduced to a group that met locally once a week when my first baby was approximately 9 months old. I couldn't often attend in-person meetings, but I became very active in the Facebook group formed by the original moms from that group. I am still friendly with some of those moms, as in the group, we often shared and supported more intimate life emotions and happenings than even our closest friends and family members knew about. As the grant funding wrapped up, the labor and delivery nurse running the in-person group slowly pulled back and continued on, furthering her career in other hospitals. The in-person group fizzled out, but the Facebook group continued to thrive (and it is still very active today).
This group is where my passion really was fanned from a flicker to a flame.
The group was where I witnessed countless moms asking questions in the group because what their trusted health professionals were telling them, did not sit right in their gut.
Time and time again, I heard about health professionals who I knew should have had the information, or at least known where to direct them to find it, were giving poor advice that would directly affect their breastfeeding relationship. Sometimes it was related to breastfeeding information related to mechanics, or milk composition, or milk value based on age. Sometimes it was about medication or diagnostic testing safety. Sometimes it was lack of knowledge related to breastfeeding and its relationship with sleep, solids, vitamins, dental health, allergies, and/or reflux. And don't even get me started on oral ties! And what I continuously saw was moms being dismissed, or making decisions that were not informed decisions, based on information that was given out based largely on opinion versus evidence, and that often directly was contradicted by the AAP, WHO, Infant Risk Center, KellyMom, to name a few.
I became very vocal. I did research. I shared scholarly resources to back up my words. And over time, I saw moms become educated. And empowered. And ready to advocate–for their friends, for their children, for themselves.
For me, it isn't just about breastfeeding; it is about parents having solid information to make choices with, and feel confident in, those choices–whatever they were. As a lactation counselor it is sad to see a mom not reach her goals; it was/is really sad when that is a result of being given poor advice from a trusted health professional. I know, to an extent, that health professionals cannot be faulted for what they don't know, but I do take issue with when they don't refer out, or further their education if they prefer to not refer out.
Availability of skilled lactation support
The support is becoming more and more available. Moms are a powerful force. The moms I know in my professional parent support/birth worker/prenatal/postpartum support circles ended up on the path they are on now as a result of their experiences, and they are usually not the good ones. We are working hard to continually educate ourselves, to join forces, to lift each other up in order to reach further and wider, in a more in-depth way. And while Covid has made in-person impossible in many settings for group support, it has also pushed us to learn and grow to adapt. This has led to many virtual groups which actually reach more people with less barriers like getting out of the house with an infant, or driving or parking, or weather.
Accessibility to proper lactation support
Luckily, I have seen an improvement in this aspect of care in our local community. A few local organizations have funds in place to help families afford services and support that they may otherwise not be able to. New companies have a set up where friends and family can buy gift certificates for services instead of stuff.
At The Nesting Place we have gathered multiple professionals to bring many of these services under one roof in physical form to offer better access in a collaborative environment. And all of these organizations listed provide affordable and free types of support. Together with The Nesting Place, I host a free breastfeeding support group which meets weekly. Many other lactation professionals also offer groups either personally, or through organizations.
What are the barriers to receiving lactation support?
Money
Time
Access
Money: Money is a barrier because many of us are not in-network providers. There are some that are in-network and skilled, but not many (in our area, in my opinion). Being in-network requires much shorter and quicker assessments and plans, with little to no follow-up because of how our insurance system works. It also generally requires a medical biller which is often an untenable expense without charging exorbitant rates, which impacts the reimbursement. In short, it's a mess. Money barriers have also taken on a whole new meaning in this age of Covid. Many families have one parent out on maternity leave (often unpaid), and the other parent (if a two-parent family) furloughed or unemployed related to Covid.
Time: Time is a barrier because these moms are busy. And inundated. They are also not surrounded by family and friends due to Covid. Many who gave birth in March, April, and May experienced varying degrees of trauma during their birth and immediate postpartum periods. They are dealing with trauma and grief, without their usual support system–plus a newborn.
Access: Virtual support is a great tool, but it also requires some technological savvy, reliable internet connection, and devices. These are not readily available to all. Transportation and childcare are two other very real barriers for local moms in need of 1:1 face-to-face support.
How can you help if you're reading this and are feeling moved to do so?
Consider donating to some of the organizations I mentioned above.
Listen, without judgement, when a mom reaches out. If she wants help, ask her what she wants.
Help her to identify resources for support.
Choose candidates who support maternity care including in the postpartum period.
Our government is not currently protecting and promoting women's access to skilled breastfeeding counseling as they should be, as many other countries do. Maternity leave is abysmal. The insurance companies find loopholes to not reimburse parents for lactation services. For example, some will consider the assistance received in the hospital (if a hospital birth) as the allotted lactation help allowed in their plan. Meanwhile, mom's milk has often not fully come in by discharge, and discharge times have been shortened due to COVID.
Thank you for reading, and I hope you can find ways to get the support you may need, or offer the support you needed and/or received. I am alway happy to point in a direction that would hopefully meet her needs.
Laura Moritz RN, CLC
Latch + Attach
Laura may be reached at directly at 631-365-5217 or Laura@LPresources.net
Multiple reference list:
World Health Organization, Innocenti Declaration on the Protection, Promotion and Support of Breastfeeding, (1989). Retrieved from:
https://healthydocuments.org/children/healthydocuments-doc33.pdf
World Health Organization, World Breastfeeding Week 2020 Message, (July 31, 2020). Retrieved from:
https://www.who.int/news-room/detail/31-07-2020-world-breastfeeding-week-2020-message
Baby-Friendly USA, The Baby-Friendly Hospital Initiative, (n.d.). Retrieved from:
https://www.babyfriendlyusa.org/about/
Photo: Photo by Cleyder Duque from Pexels https://www.pexels.com/
Organizations and companies mentioned:
Long Island Doula Association (LIDA) www.lidoulas.com
Be Her Village https://behervillage.com/