The Nesting Place presently offers pre-natal friendly yoga, baby and me, and toddler and me yoga.
Baby and Me Yoga is for ages: 6 weeks to crawling – This 45 minute class is for you and your littlest love! We will explore stretches, and movement that will support growing bodies, brain development, aid with digestion, and help create healthier sleep patterns. In this class we will build community, and cultivate a safe space for Parent/Caregiver bonding time with baby. Throughout class we will focus on helping your little one get into a variety of poses, as well as play with creating shapes with baby. But, we can't forget about you! Additionally, there will be time to provide self care practices through mindful movement/yoga designed for new parents. There will be music, and and play and so much more! (Optional to bring: A receiving blanket, yoga mat and 1-2 soft toys). Offered Fridays at 4p.
Reserve Your Spot Here or call 631-848-3627 for more information.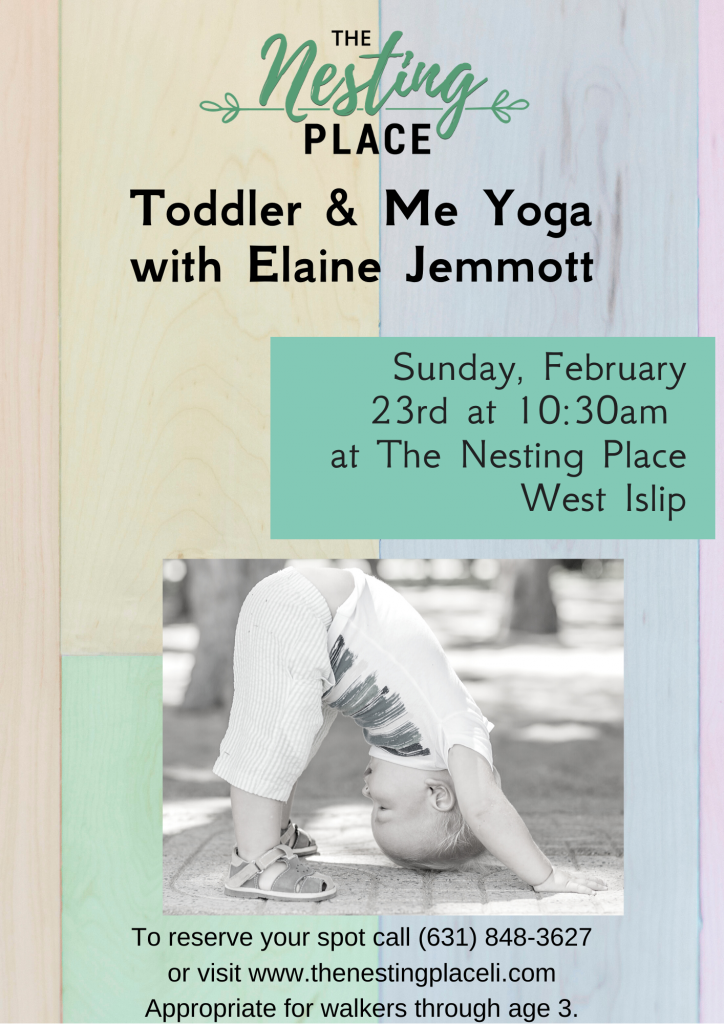 Toddler and Me Yoga: Active new walkers up to ages 3!
Join us for an afternoon of yoga, dancing, games, sensory stimulation and bonding with your toddler!
January 5, 2020 and February 23, 2020 from 1030-1130a.
Registration is required.
$25 per parent and toddler (addtl. toddler: $10 at door)
Reserve Your Spot Here or call 631-848-3627 for more information.
Cancellations with less than 24 hours notice cannot be refunded. A one time credit may be offered.
Limited spots available.
Pre-natal friendly yoga is a one hour class which will offer gentle ways to connect with your body and your baby during your pregnancy. Prenatal friendly yoga offered Tuesdays at 930am, Thursdays 730p, Saturdays 945a and prenatal yoga offered Saturdays 11am. Register for class by texting Aloha at 631-268-5553.
All of these classes will offer a calm and relaxing environment to help you feel centered and strong.
We suggest you bring a yoga mat to each class.